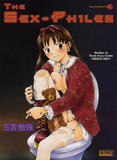 Title: Sex-Philes (issues 13-17, end)
Artist: Benkyo Tamaoki
Pages: 170
Download Resized Version: ( Hotfile )
Download Hi-Res Version: ( Hotfile )
And here's the last batch of Sex-Philes issues. Content wise it's more of the same stuff you'd expect based on the rest of the series. As far as warnings go, one chapter ends in some very minor, and brief scat (you should be able to tell it's coming from a mile away if you really want to avoid it). Also two other chapters end with people dying (not particularily violent or at all gory, but still a little creepy, more thematically than anything).