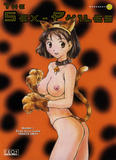 Title: Sex-Philes (issues 7-12)
Artist: Benkyo Tamaoki
Pages: 200
Download Resized Version: ( Hotfile )
Download Hi-Res Version: ( Hotfile )
Content wise this time, we have one chapter with lesbians, one with futa, and one with a little bit of piss drinking. Thematically it's just as varied as before, with mostly comical or cute stories, and a few somewhat darker ones. Oh, and there's also one with some superhero guy with a penis hat. Enjoy.