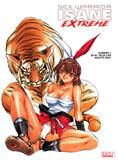 Title: Sex Warrior Isane Extreme (original title Isane v.1 – Hound)
Artist: Okawari
Pages: 186 (plus covers and misc pages from the japanese version)
Notes: This is another re-scan, and so is only a quality improvement over the previous scan (same improvements as always). The only book I wasn't able to re-scan was book 5, so the version included is from the old set of scans.
Download: ( Hotfile )
Hi-res version will be added sometime later.