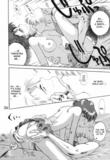 This is an EDIT of mine, translated from the raw. Not one of my scans.
Title: Submission Mercury Plus (Higher-Res Re-Edit)
Artist: Black Dog
Pages: 50
Download English Version: ( Hotfile )
Download Raw: ( Hotfile )
This is a re-edit of the Submission Mercury Plus book using better quality raws from a reprint, which is to say it's MUCH higher quality than the old translation. Also a general note about the "Submission" series by Black Dog: There is sort of a chronological order to the events of these doujin, and I am doing them in order. So if you want to read the story "properly," start with this one and work your way up.

Content wise, well, the name should be a giveaway, but it contains rape. There are tentacles, but they aren't really part of the raping.