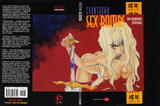 Title: Countdown: Sex Bombs
Artist: Hiroyuki Utatane
Info: 144 + 26 pages, PNG format, ~1200×1635, 45mb for resized version, ~2200×2900, 114mb for hi-res version
Download Resized Version: ( Hotfile ) – ( Megaupload )
Download Hi-Res Version: ( Hotfile ) – ( Megaupload )
UPDATE: When I posted this the other day I accidentally posted the old version without the Special Issue that I re-scanned recently. So if you downloaded this in the last couple days (or downloaded it like, last year), you may be interested in re-downloading.
Up for release this time we have another "classic" Eros series, Countdown: Sex Bombs by Hiroyuki Utatane, who's probably more well known for creating the Cool Devices anime and manga. As usual, I've included the old low-res scans of the covers, and the "Special" comic, which for no apparent reason was left out of the graphic novel printing.
Though the first chapter is certainly more in line with the kind of stuff you'd find in Cool Devices, the rest of the book is relatively tame. The aforementioned first chapter is largely femdom, with a bit of man on man action as part of the "domination" (just skim over it if it upsets your heterosexual sensibilities, it's only a few panels). After that, a few of the chapters have "futanari," well, they're either futas or newhalfs, it's sort of visually vague, and the plots don't go into much exposition. There's also crossdressing (both male and female) and lesbians in some of them, and a woman has sex with a dragon. Ok, so it's not all THAT tame, but what I meant was the overall themes were fairly chill, which is to say, no rape or violence or degredation.
All in all, I liked the book a lot more than I thought I would, though the style and presentation is very dated, and it shows.